Are you looking for a Mac repair shop in Copenhagen? Don't worry – we are here to help you. We have more than a decade of experience fixing any kind of issue or damage, that might have happened to your beloved Apple product.
We know how important it is to stay connected with family and friends whether you are here for a holiday, business trip, to study or even live here. That's why we always offer a quick service – often within just 24 hours.
We are repair specialists in the complete Apple product lineup – MacBook, iMac, Mac mini, iPhone & iPad. Is the screen of your iPhone broken, coffee spilled into your MacBook og iMac working way too slow, we know our way around and are able to fix it right away.
Our repairs are mainly done with original parts from Apple. However in some cases we are able to offer cheaper solutions with OEM parts or used original parts, that still works just as good as brand new ones but at a lower price.
Where in Copenhagen can you repair my Mac?
We are placed just outside Copenhagen, no more than 14 km from the city center. It is both easy to get here by car or public transport such as train or bus. If you feel for it, you can even get here by bike as we have great cycle paths all the way.
If you want to visit our Mac repair shop near Copehagen, you'll find our contact information here or click the address to get instant directions: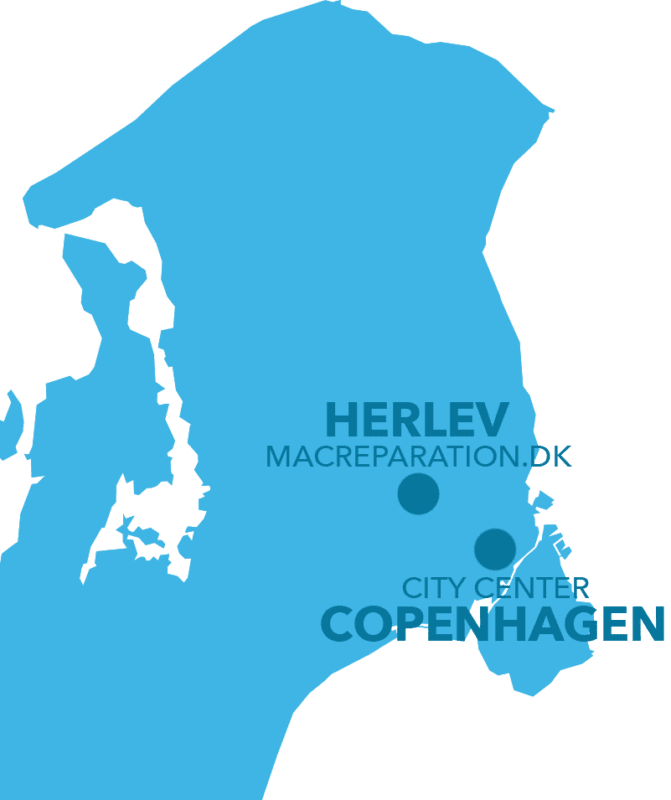 Will i get a quotation of my repair before you fix it?
Sure. We always make you an offer before starting the repair of you Mac or other Apple product. In order to get a quote on your specific repair you are more than welcome to drop by our shop, contact us or fill out the form below.
Are you not comfortable in danish, please fill out the form in english and we will get back to you within 24 hours.